ANTIQUE ENGINE REBUILDING BUILD MODEL A TOURING CAR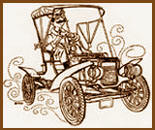 To build a Model "A" Highway Touring Car, I recommend the following items to start with:
• Model A counterbalanced engine with V8 clutch and lightened flywheel.
• Touring Grind Camshaft
• Insert Main Bearings
• NEW Insert connecting rods with bearings
• New Hi Compression Head
• Larger Intake Valves 1.730 Head Dia.
SHORT BLOCK
Picture shows Model A clutch now using V8
$3650.00 with 6.1 HI COMPRESSION HEAD
$3300.00 WITH NO HEAD
LONG BLOCK
$4650.00 with 6.1 HI COMPRESSION HEAD
add $1865.00 for RUNNING ENGINE
OPTIONS
BURLINGTON CRANKSHAFT with touring engine add $800.00 www.burlingtoncrankshaft.com

330 or 340 Lift NEW CAMSHAFT for added power with touring engine add $400.00
Cost Override – On any short block engine rebuild, any repairs to engine (crack, heli-coil, drill out studs…etc) needed under $100, will be done with no notification. On any long block engine, any repairs needed under $150, will be done with no notification.
Payment for work done
–
You will be notified within 4 business days prior to your engine work being finished. At that time, you will be asked if any additional services and/or parts are needed. The total price for the job will be given, and we kindly ask that you please mail us payment, so that it will get here to our shop around the same time the engine is shipped.
Now that you have a faster, smoother more durable engine, call Gary's Model A. They make a smooth synchronized 4-speed transmission for the Model A that installs with few modifications. 4th gear is overdrive, this gives you a higher top end and lowers engine speed for normal cruising. This will conserve fuel, lower your RPMs, preserve your engine life, all while having a quieter engine at a normal cruising speed.
Gary's Model A (817) 624-4342
ANTIQUE ENGINE REBUILDING
4835 LOUISE
SKOKIE, IL 60077
(847) 674-6716
INQUIRIES INVITED