| | |
| --- | --- |
| ANTIQUE ENGINE REBUILDING | SHIPPING |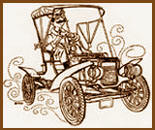 ANTIQUE ENGINE REBUILDING receives a discounts from 5 companies. Customers ship engines to us freight collect in order to receive the discount. When we receive the invoice we will forward to customer for payment directly to freight company with no mark up in price. Please pay promptly.
ABOUT SHIPPING
1. Call shipping companies for quote or other information as employee of ANTIQUE ENGINE REBUILDING. Supplying account # for appropriate company. All have 24 hour web site with information below to get rate quotes.
2. If you have your own shipping company, it would be advisable to get quotes from your companies as well as ours. Zip codes and weight matter not distance. Suggest you get at least two quotes.
3. Business to business delivery is less expensive then to a residence. If you can have shipment delivered and or picked up, where you work or a friends business this can save money.
4. Engines can be shipped to us for rebuilding tied down to a skid. We will ship rebuilt engines back to you in a crate. If you would like to save crating fees you can build a crate using drywall screws to attach lid. This will give us easy access to engine and we can reuse crate. Please be sure to build short block crates large enough for rear main oil pipe, they are installed before leaving our shop.
The size of our long block crate is 34x23x31H. Crating fee Exchange $100.00
Crating fee Outright $150.00
The size of our short block crate is 29x21x16H. Crating fee Exchange $ 50.00
Crating fee Outright $ 75.00 Crating Fees are NOT REFUNDABLE
FED X FREIGHT
http://www.fedex.com/us/freight/
USERNAME aer1930
PASSWORD A1930aer
ACCOUNT INFORMATION click edit
CLICK click consignee and collect
TO your zip code
SHIPMENT DETAILS 1 unit, weight, class 70
ADDITIONAL SERVICES if required and click get rates
For quote or shipping information please call as a employee of Antique Engine Rebuilding
INFORMATION THEY WILL ASK
PHONE 1 800 797 5681
YOUR ZIP _________
OUR ZIP 60077
CLASS 70 USED ENGINE
WEIGHT IN POUNDS 207 FOR SHORT BLOCK, 358 FOR LONG BLOCK
CUSTOMERS COMPANIES
PHONE (708) 338 5373
ACCOUNT NUMBER antiq
USERNAME antiq
PASSWORD aer1930
CLICK On-Line Requests
CLICK Rate Quote
FILL IN ZIPs OUR 60077
PALLETS 1
WEIGHT IN POUNDS 207 FOR SHORT BLOCK, 358 FOR LONG BLOCK CLASS 70
CLICK Residential Delivery or Lift gate if required CLICK Get Quote
ABF FREIGHT
wwwabf.com
PHONE (800) 610-5544
ACCOUNT # 705353-0001
USERNAME antique1930
PASSWORD aer1930
CLICK Rate Quote
FILL IN ZIPs OUR 60077
WEIGHT IN POUNDS 207 FOR SHORT BLOCK, 358 FOR LONG BLOCK
SIZE OF SHIPMENT LENGTH, WIDTH, HEIGHT (see above)
CLASS 70
CLICK Residential Delivery or Lift gate if required CLICK Calculate charges
THE NEXT TWO COMPANIES ARE BROKERS
TAZMANIAN
www.tazmanian.com
PHONE (888) 820 0673
ACCOUNT # 1001309
CLICK Log In
USERNAME aer
PASSWORD aer1930
CLICK LTL Rater
FILL IN ZIPs OUR 60077
CLASS 70
WEIGHT IN POUNDS 207 FOR SHORT BLOCK, 358 FOR LONG BLOCK
UNISHIPPERS
1(847) 843-0888
Ask for Chris. Call as customer of Antique Engine Rebuilding
INFORMATION HE WILL ASK
YOUR ZIP _________
OUR ZIP 60077
CLASS 70 USED ENGINE
SIZE OF SHIPMENT LENGTH, WIDTH, HEIGHT (see above)
WEIGHT IN POUNDS 207 FOR SHORT BLOCK, 358 FOR LONG BLOCK
ANTIQUE ENGINE REBUILDING
4835 LOUISE
SKOKIE, IL 60077
(847) 674-6716
INQUIRIES INVITED
antiqueenginerebuilding.com