Model A Engine Rebuilding
We offer the following Model A options:
Short Block Basic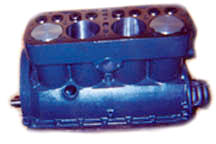 INSERTED MAIN and ROD BEARINGS
$3,560.00 rebuild, or exchange when available
$229.38 Installation kit (Recommended)
Add optional 6:1 head + $399
Includes:
CONNECTING RODS
INSERT CONNECTING ROD BEARINGS
MODERNIZED MODEL A PISTONS
PISTON RINGS
STAINLESS STEEL VALVES
ONE PIECE GUIDES
ADJUSTABLE SINGLE-LOCK LIFTERS
GEARS - Steel Crank & Fiber Timing
HARDENED SEATS
INSERT MAIN BEARINGS
CRANKSHAFT GRINDING
CAMSHAFT GRINDING
RESURFACED BLOCK
PAINTING
ASSEMBLY
Long Block Basic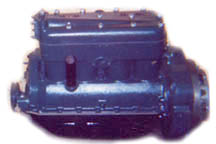 $5,400.00 with reconditioned head
$5,800.00 with 6:1 head
Includes above, plus:
RECONDITIONED HEAD
6:1 HEAD OPTION (Additional)
OIL PAN - Reconditioned
VALVE COVER - Reconditioned
TIMING COVER - Reconditioned
REBUILT OIL PUMP
FLYWHEEL - Standard
V8 CLUTCH
HEAD STUDS & NUTS INSTALLED
GASKET SET INSTALLED
INTERMEDIATE DRIVE GEAR/SPRING
SPRING & PLUNGER
1-PIECE PULLEY
PAINT
ASSEMBLY
RUN TEST: ALL long block engines are run on our run stand.
Running Engine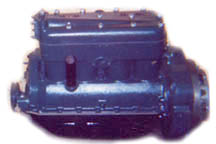 Includes above, plus:
STARTER (Rebuilt)
GENERATOR (Rebuilt)
DISTRIBUTOR (Rebuilt)
IGNITION SYSTEM
CARBURETOR
WATER PUMP (New When Available)
BELT
FAN
MANIFOLDS
PAINT
ASSEMBLY
RUN TEST: ALL long block engines are run on our run stand.
*Cannot be shipped with oil in engine.
ALL Model A engines include insert main bearings and new insert connecting rods with insert bearings, as well as one-piece press-in valve guides with stainless steel straight stem valves.

For COUNTERBALANCED CRANKSHAFT see Model A Touring Engine

HIGHLY RECOMMENDED: 6:1 High Compression Head @ $399.00
MODEL A SHORT BLOCK REBUILDING
PARTS
CONNECTING RODS
PISTONS
RINGS
MAIN BEARINGS
THRUST WASHERS
MODERN VALVE KIT
CAMSHAFT NUT
REAR OIL SEAL
HARDENED VALVE SEATS
LIFTERS (Single-Lock Adjustable)
CAM GEAR
CRANK GEAR
LABOR
GRIND CRANKSHAFT
GRIND CAMSHAFT
ALIGN BORE BLOCK FOR INSERTS
BORE AND HONE CYLINDERS
INSTALL VALVE SEATS
FINISH VALVE SEATS
INSTALL VALVE GUIDES (Press-In)
RESURFACE TOP OF BLOCK
DISASSEMBLE & CLEAN
ASSEMBLE
Other Services:
Cylinder sleeves
Recondition head
External crack repair
Heli Coils
Crack repair plugs
Drill out broken studs
Prices subject to change without notice.
Pick-up and/or Indiana residents subject to sales tax.
Shipping and crating NOT included in the above prices.